No Gym? No Problem. Create An Effective Total Body Workout at Home.
With the closures that come with the worldwide pandemic of COVID-19 people are finding new ways to stay in shape, regain their health, or make improvements. If you've been a gym goer or an active member at boutique studios and finesses it might seem as a challenge to create a new routine. We looked to the experts to find the best and most effective workouts that you can do at home with little to no gym equipment to get the results you want.
Start & Finish With Burpees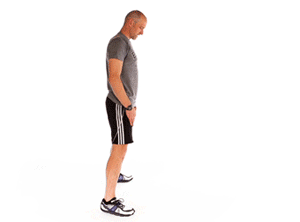 There are plenty of ways to work up a sweat in your living room or outside according to certified personal trainer Bryan Goldberg. "The average person can get fit and stay fit in the confines of their bunker. "For the most bang for your buck, the burpee is the best," he said. "No matter where you are in the fitness spectrum, there aren't many things are so simple but have such a profound effect as a burpee." Goldberg recommends starting with a set of burpees that will be challenging but doable for you based on your fitness level — five to 10 is a good starting point. Then, follow it up with the same number or go for more.
Single Leg Kick & Touch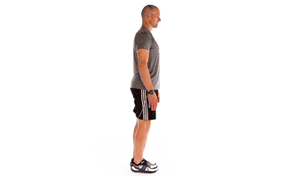 A great extension and exercise for your lower body. Kick your left up and touch with your opposite hand then step forward, bend at the waist and touch your toes while lifting your opposite leg. Switch legs and repeat.
Inching Push-up and Back Extension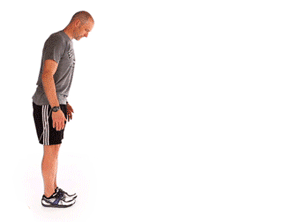 Bend at your hips and begin bringing your hands forward and down to the ground. As you place begin inching forward while maintaining balance and form until you are in a push-up position. Once there, perform a push-up, bring chest to ground, and press up with arms to create an arch in your back. Proceed to go back down, press up and begin inching back up to the start position.
Squatted Jumping Jacks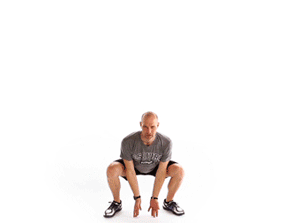 Unlike normal jumping jacks, this movement works deep into your legs and provides an extra caloric burn to the childhood activity. Begin by going from normal standing position into a jump while spacing your legs wide enough to squat down in the bottom of the movement. From there press through your feet and come up in a traditional jumping jack form and feel the difference.
The Classic Push Up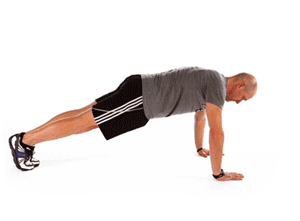 The main staple to body weight exercise, the push up is one of the most effective movements for chest, shoulders, arms, core and stability. If you are unable to perform the traditional push up shown above, you can look to do a modified version where you place your knees on the ground.
Looking For More Activities?
There are many virtual instructor classes led by some of the industry leading fitness brands that are bringing their platforms to your home. If you are looking for more ideas for home exercises here are some of our favorite resources:

15 Best Beginner Exercises At Home

*Sources:
https://www.esquire.com/lifestyle/health/a28191/fitness-program-0414/